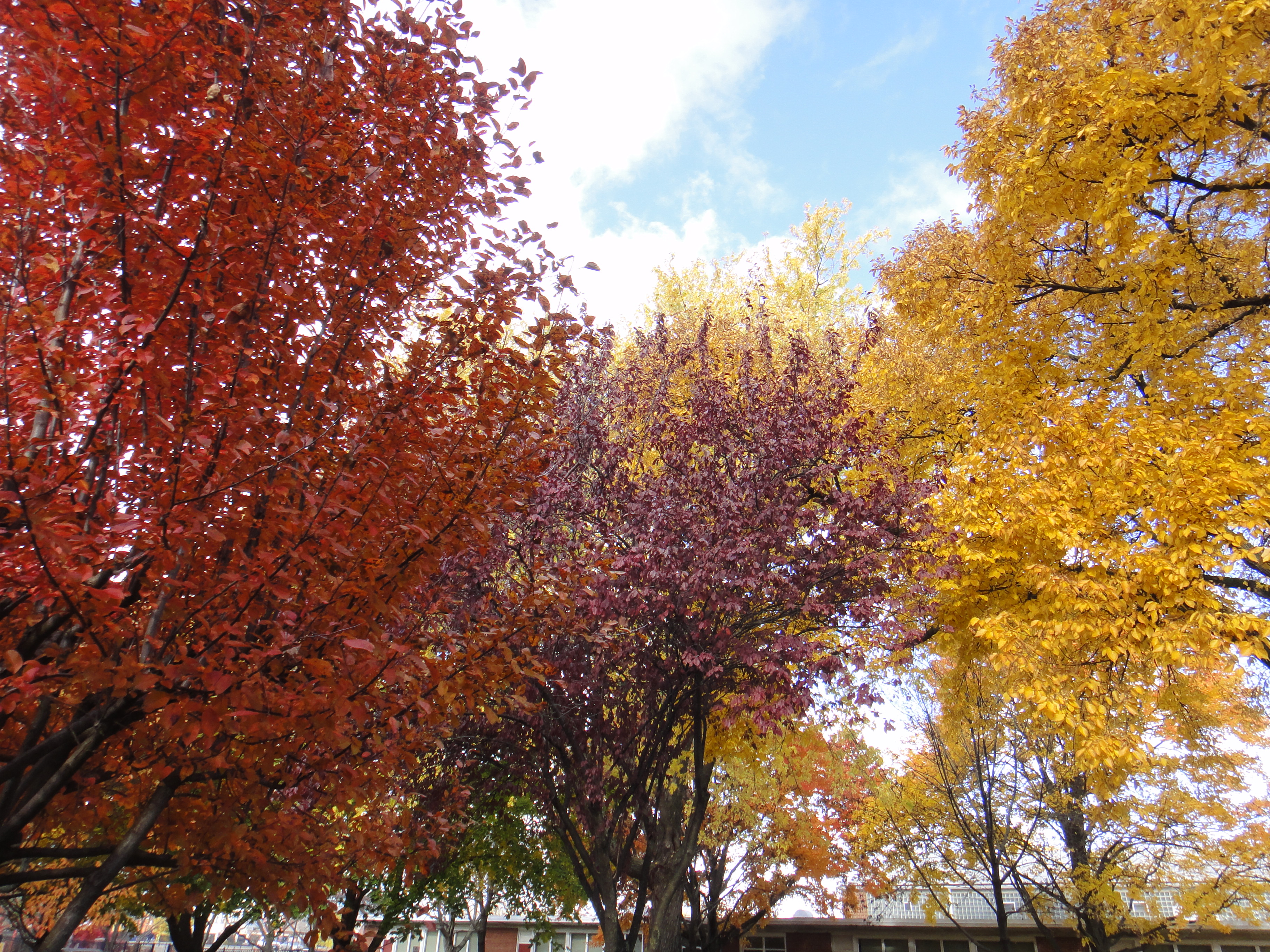 Leaves were falling. the village was beautiful. the richness of colors, stunning. you don't get this living in the concrete jungle. or if you live in an arid landscape. We deal with cold temperatures Bub.
The beauty of the changing seasons is our reward. something to embrace.
The doorbell rang. I opened it.
They thought I didn't recognize them. It was The Macgillycuddy Boys.
Billy and his younger brother Timmy.
Both boys ran with the gang that would throw snowballs at my car last winter.
It was them. make no mistake about it.
The older brother was doing the talking now.
Mister? do you need someone to rake your leaves?
I locked eyes with the little one. he was giving me the stink eye.
Is there something wrong young man? he wouldn't answer me. Is this your brother?
Un-huh, Billy responded.
Are the two of you registered to rake leaves in this state? they looked at each other.
Are we what? Billy asked.
Registered. are you Registered? Do you boys speak English?
Un huh. Billy said.
So, let me get this straight? You two are Brothers. You live in Illinois, You speak English. You're here today to ask me to rake the leaves in my yard for money. Are you boys Troublemakers?
The younger one rolled his eyes. I looked at him. Do you remember me Timmy?
No. Timmy said.
You Don't? I asked him very directly.
No. he said. I stood there staring at Him. Timmy starting tugging at his brother's coat, he cupped his hand whispering something in his ear.
Billy spoke up. Mister we gotta go.
Go? but you just got here? wait a second, you came here today with a business proposition and now you want to run off before you get an answer to your question?
Umm? we…Umm? Billy stuttered.
Young Man ask me your question again. they exchanged glances.
Billy softly asked  Umm…Would you like somebody to rake your leaves?
Somebody? Who?
Timmy rolled his eyes again. exasperated he blurted out, Us.
I shook my head from side to side like I was being offered something that smelled rank.  No Thank You. closing front our door.
I woke the next morning and looked out our window. the nine bags of leaves I had left out on my curb for pick up were spread all over our front lawn. the bags were missing and so were the yard waste stickers you are required to purchased from the village. no sticker? no pickup. someone was sending me a message.
It was The Macgillycuddy Boys.
Standing in your yard trying to clear it of leaves while more leaves drift down on you from the trees above can wear on you. Last year I raked 47 bags of leaves. a few of my neighbors were quite amused at the eager new guy on the block who thought he could stay ahead of Mother Nature. Mother Nature wins every time. don't even try to take her on. she'll kick your ass pal. Imagine trying to keep snow off your driveway in the middle of a blizzard? That is the feeling you get on my street when the leaves start to fall.
Why don't you hire a couple of kids from the neighborhood? My neighbor Nancy asked me. Why are you putting yourself through this?
I smiled and almost bit through my lip. I wanted to throw her in her bushes.
Pay someone to tend our land? Never!
Never say Never……Ever.
I woke up and felt like a hundred year old man. My Back was killing me. my left shoulder ached.
I went over to take a look at the community bulletin board at our grocery store to see if I could find someone to handle the leaves for me. Tacked on the board was a piece of paper. It read in bold print.
FALL CLEANUP. We Rake Leaves.
At the bottom of the page was a phone number.
I called the number, a woman answered.
I'm calling about the Fall Cleanup.
She said, Sure, hold on a second. SHAN….NON it's for You!
Shannon? a few seconds later a girl's voice on the other end said, Hello?
I introduced myself.  Are you the person to speak to regarding the fall cleanup?
Yes. she said. My friend Eileen and I will rake and clean up your yard.
Great, How do we get started? she informed me that they could come out tomorrow after school for an estimate. I gave her our address. we arranged to meet at 4:30.
4:30 on the dot. I was out in front of our house when two young girls with rakes walked up. Shannon the young woman I spoke with on the phone said  Hello. then introduced me to her friend Eileen.
I showed them the yard, Ladies? what's this going to cost me? they gave me three options. once a week 40 dollars, twice a week 60. and for the season 160.
I'd like you to handle the season. When can you start?
They looked at each other smiling.
Right now? If you'd like?
They went to work. no smirking, no shuffling of feet, no stink eye.
They raked both the front and backyard. bagging about 17 bags of leaves all neatly stacked at the curb. Once they finished they knocked on our door, still smiling. telling me they would be back on Saturday.
Ladies? before you go? do you know the Macgillycuddy Boys from down the street?
Yeah, We Know Them. Shannon replied.
I sensed an edge in her voice.
Ladies? I'm worried that Billy and Timmy won't be happy with you taking their business. I have it on good authority that these two boys are known troublemakers around town, it's possible they might try to undermine your business.
Undermind?  Shannon inquired.
Yes, undermine, They want to try to keep all the business to themselves. we're not all bad ladies. but these boys? The Macgillycuddy's? I just don't trust them. Billy told me that if you want a Woman to do your work for you? go ahead hire one, see what kind of job they do? they'll take your money and never show up. they also said you two ladies had been in trouble with the police?
Police?!? The smiles disappeared.
Yes, The Police. I also suspect that they might try to sabotage your work by dumping the leaves you worked so hard in raking on the ground.
Eileen looked at me and said, They better not.
Yes.  I pointed at Eileen. They better not, keep an eye out for them.
They told me they would, and to not worry.
Want to be treated like a professional? prepare like one. project yourself as one.
It was clear these girls knew the score.
In the business world today. when you look to provide a service to someone. you better be able to provide the customer with the factual information they need to make a well-informed decision that is best for them. You can't stand in front of someone during a sales pitch and say, Umm? and Roll your Eyes at the potential customer. You sure as shooting can't give them the Stink Eye and then expect them to give you money?
Tell that to your little brother, The Eye Roller.