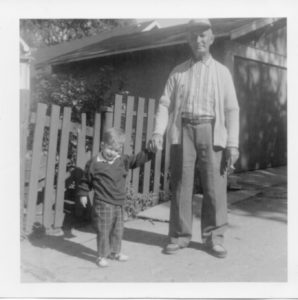 Uncle John lived a couple of doors down from us at our neighbor Bobbi Carrs house.
Bobbi ran a rooming house. the only two people I ever knew to live with her were Alec, 75 years old. german national. a very quiet, round old guy who walked around with his hands behind his back like he was contemplating something? nothing sinister, mind you? plotting? perhaps. most likely, only reliving his life through memories long past.
The other gentlemen renting a room was Uncle John. Now…John wasn't my real uncle. I just called him that. John was in his late 60's, early 70's I'd guess? he was 6 foot something. to me? he might as well have been a giant.
As a boy, I thought Uncle John was the coolest guy around. former US soldier who served in WWI. a retired widower. His wife had passed of an illness twenty years prior. he never re-married. moving around the country holding various jobs to makes ends meet.  settling in Oak Park Illinois just a couple a doors down from our home at 830 Wenonah Avenue in the late 50's.
Oak Park Illinois is located just west of the city of Chicago. a stones throw on the Eisenhower Expressway or The Ike as locals call it.
I'm not sure how it was that Uncle John and I started taking walks together?
I'd see him from the window and wave. he'd smile, waving back. I was about 4 going on 5 then.
Perhaps Mom saw it as an opportunity to watch her daytime soap operas without some ungrateful little sneak underfoot. I used to beg her to let me go with him.
Uncle John was shy and polite to everyone in the neighborhood.
I was grateful for his company. we got along. He listened to me blather about this and that. I had questions man. lots of questions.
If he had the answer. He was patient and kind and would explain things to me. If he didn't? He'd let out a deep sigh. look at me and shrug.
I wanted to be just like him.
What I enjoyed most about our walks together was ignoring my normal boundaries. those set by my folks.
No farther than the corner. they'd say, Stay on this side of the alley.
Uncle John didn't operate on that frequency. he wasn't gonna be content just walking back and forth on our block.
I knew it. so did Mom I imagine?
Uncle John was a smoker, While on our walks together he always took the opportunity to light up a butt.
Sometimes we'd walk to Al's Grill on Madison Avenue. Where he'd get a cup of coffee, I'd have a glass of water.
Al's was a great place, typical fifties diner. long counter. several booths. if you sat at the counter you could see the cook. this big guy moving around in the kitchen. I'd watch him shoving the food through a small window to the waitress. wondering how he fit through that tiny window? did he live in there? was there another way in?
One particular afternoon as Uncle John enjoyed his coffee and cigarette, I was spinning myself around on the counter stool, content for the moment, trying to make a revolution without using my hands.
A Large Cadillac pulled up out front. A man in a black suit stepped out and headed inside.
He ordered 3 cups of coffee at the counter from the waitress. placing five dollars on it. She brought him his change. followed by his coffee to go.
I didn't see the man from behind when I spun kicking the cups of coffee onto him and all over the floor.
He started waving his arms around. Shouting. mostly at me.
Uncle John got between the man in the suit and me.
It was an accident. He's just a boy. Look? I'd like to buy you the cups of joe to replace what you spilled.
What I spilled!?!
My Friend held out his hands palms up. Please the boy.
The man glared at me.
I wish he hadn't.
He leaned in to whisper something to Uncle John.
Who then looked at me and said, We're leaving.
The man immediately stepped in front of us. Putting his hand on Uncle John's chest.
I never saw Uncle John move so fast. he hit the man with something he'd pulled from his pocket. knocking him to the floor unconscious.
It was a blackjack he carried for protection.
The cook came out from the kitchen
Do you know who that is? he works for Momo. you better get outta here quick. C'mon let's go!
Uncle John grabbed my hand and the cook led us out the back door into the alley.
Run. was all the cook said. Run.
We did. couple of blocks away we stopped. I looked at Uncle John who was breathing hard.
He kept asking me if I was OK?
Who's Momo? was what I wanted to know?
Robert, time to go home.
He might as well have been Walt Disney for all I knew or cared.
Alec was sitting on the front porch of Bobbi Carrs house as we hurried up the street.
John said something to Alec. who got up and went inside.
We knocked on the door of our house. My Father answered. Mom came to the door behind him.
John asked if he could come inside a minute, first looking over his shoulder and up the street as we entered.
He spoke with my parents in the front room a few minutes.
I went in the next room to turn on the TV. Hoping to squeeze in a couple of cartoons or some Three Stooges. Maybe Garfield Goose was on?
I knew I was in trouble. Though? I had no idea of the severity.
I thought I'd probably get a spanking? maybe no tv? very likely have to go to my room? dollars to doughnuts going outside to play was out.
I heard Uncle John leaving and went out to say goodbye. I told him I was sorry. he knelt down, looked me in the eyes telling me it wasn't my fault. Then he mussed up my hair said goodbye and left.
Alec met him on the sidewalk in front of our house carrying what looked like….is that a gun?
Closing the door behind him, I thought, here it comes. Dad's gonna yell. Mom's gonna send me to my room. only they didn't?
Mom came over knelt down and hugged me.
Then Dad walked over putting his hand on the top of my head for a second. before he picked me up.
Something was wrong.
We all went to bed early that night.
I slept in bed between Mom and Dad.
They sent my Brother and Sister to sleep over that night at their friends.
When they got home the next morning. my brother would explain that the man I kicked coffee on was a bad man. he might come looking for us, try to hurt Uncle John and me.
In the weeks that followed, word went out. someone was looking for an old guy with a little kid.
Questions were being asked.
It wasn't good at home. everybody was acting weird. mood was wrong.
I had to stay inside for a while. if I did get to go out? my parents, brother or sister went with me.
Mom and Dad were constantly looking out the front door or back windows of our house, scanning the street and alley. certainly no one went out after dark. my brother and sister were driven and dropped off everywhere.
it was a Friday Night, the light in the alley behind our house went out. it never went out. ever.
Dad wasn't home, Mom grabbed my sister, brother and I, we headed for the basement.
Someone was in our house. we could hear them upstairs.
Mom immediately called the police from the phone we had downstairs.
We all huddled in the corner quietly. listening in the darkness. terrified.
The police arrived, entered and searched our entire house. they could find no sign of forced entry. no signs anyone had been there but us.
I knew better. we could hear them walking around, our floors creaked. there was no mistaking the sound. Ask my sister. we all heard it.
Eventually things seemed to calm down.
Mom and Dad acted like Mom and Dad again.
I didn't complain, a rarity in our household at the time.
A few years later after my brother graduated high school, and went off to college. my parents sold our house in Oak Park, moving us to a suburb north of the city of Chicago. I was 8 years old.
When I got to be my brothers age, I became aware of the facts. the man I kicked coffee on worked for a man who lived on our street.
That man was Sam Giancana. The Boss of the Chicago Mob. the man in the black suit who Uncle John belted worked for one of the most powerful mobsters in America. certainly in Chicago.
Giancana lived quietly in Oak Park.
My Brother Tom explained that Dad spoke with one of his guys. telling him what had happened. that it was an accident. the guy listened. then, made a call while dad stood there waiting. after the call? he told him, no one would bother me or our family.
No such assurance was made for Uncle John.
So? Unbeknownst to anyone, Dad gave Uncle John some money, he disappeared the next day.
I never got to take a walk with my friend ever again.
Every year on my birthday I would get a post card from him. usually from some place with palm trees and a swimming pool.
When I was 14 or 15 the post cards stopped?
Mom and Dad sat me down.
Uncle John died peacefully in California in 1975. he was 81 years of age.
No one ever came looking to harm my family. and they never found our friend.
Uncle John had protected me. Dad recognized that.
For all the negatives others attached to my father over the years. this time he got it right. This man had done right with his son. And it was his job to do the same for him. In a time when things like loyalty and honor meant something.
Funny how things work out? nothing ever happened.
You worry. you wait, the bad you think is coming, doesn't.
On June 19, 1975, 67 year old Sam Giancana was shot in the head and neck at 1147 S. Wenonah Avenue in Oak Park Illinois.
His killer was never found.
To this day.
Several times a year I take a ride to Oak Park and drive down our old street. I'll Park. look at our old house, think of my childhood. Remembering those innocent days of my youth.
Then I drive down Madison Avenue. Al's Grill is still there. Though, I stay in the car. I'm always afraid to look inside. maybe that old gunsel is in there? waiting for me?
I don't take foolish chances anymore.
I just want another day. you know? another memory.
Sadly for me, Everybody is gone now. Uncle John, Dad, Mom, My Brother. Bobbi Carr, Alec. They're all gone.
I miss my friend a great deal. I wish we could take a walk and talk about that day so long ago.
I've got questions man, lots of questions.
You can't ever go back. Nobody's there anymore. You can only go forward.
We All Just Move On. We Have No Choice.