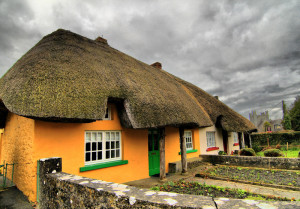 Characters
Oona O'Brien fifties
Eamon O'Brien fifties
Place
Rural Ireland.
Present Day
Interior of a small cottage. a table with four chairs. a sink and stove. couch and television. a small fire burns in the fireplace. it's late. a womans loud voice is heard, screams intermittently fill the room. in the corner of the room Eamon has his ear to the wall. his wife Oona enters.
Eamon:  Jaysus! they're still going at it.
Can ya believe it darlin? Did ya hear what she was saying to that lucky lucky man? got us a hairy growler living next door. better lock the doors and shut the windows. hate to think of what she might do to me, were she to get in here?
Oona:  She's a grin on her like a dead hare.
Eamon:  She's a mauler alright, are you listening to that? Oh my Jaysus! easy now. take it easy woman. the man has to work in the marning!
Oona:  Steal the blessing from the holy water. face on her like a plate of mortal sins.
Eamon:  Maybe I should talk to er, let er know we can hear em going at it?
Oona:  If you could hear what I hear? you'd never speak to yourself again.
Eamon:  I wonder how long he can last in there? Da poor fella. she's eating the head off.
Oona:  The wheels turning. but the hamsters dead innit?
Eamon:  Good Fuck. Didja hear it! Call the Peelers. God Help Em! something broke in there.
Oona:   Settle Down, Careful, Careful Now. your blood pressure is shar to be up. It's a Dangerous Game yar playing.
Eamon:  Yore Ma!
Oona: Ya Gobshite, Me Mam Warned Me About Ya!
Eamon: Ah Here now woman. I'd be lost without ya. if I upset yas? darling? I,I, I was only….
Oona:  …..Don't talk about me Mam.
Hang on? it's gone quiet.
Eamon:  They've finally gone to sleep? I'll just go next door and listen through the lock?
Oona:  Is that what you'd like? is it?
Eamon:  It is.
Oona:  Well go on. Get a leg over. maybe you can join them.
Eamon:  Well now, I don't think I could keep up with em.
Was it not too long ago that was us now woman? have you forgotten? I remember the first time I saw you in secondary school. walked right into an ambush on me heart. you batted those eyelashes of yours and smiled. was mighty. you didn't know it at the time. I hid it from you. fearful you wouldn't feel the same. make no mistake about it. you took my heart that day. I'd had it. making me pursue you throughout school, letting me get close. though never close enough to me liking. seemed like the longest courtship a young lad should ever have to go through.
Standing outside at night, looking into the sky, wondering if you were awake. if you had your knickers on?
Teasing me, ever so slowly, letting me. go a little farther.
Oona:  I remember the where's and the when's. they are treasures I hold in me heart.
Eamon:  Ah me as well darling.
I wouldn't trade the journey we've been on together for anything in this world. in the darkness, we found each other. at that right time. in that right place.
I hope those american kids, enjoy their youth, that she flattens him every night for as long as possible. for as we both now know, it's slips away all to soon. maybe we can't have what we once had. though perhaps? we can find something new, something different.
We all make plans. somewhere along the road. in ways we never expected. change occurred. through it all. we stayed loyal to each other. life got interesting when it got tough. once I was old enough to understand that bad things weren't just happening to me. that they happen to us all. my perception of life changed. I stopped feeling that weight. all that sorrow I carried around inside me for so long? disappeared.
I miss us the way we use to be Mrs. I get lonely. don't you have feelings for me anymore? yer me bride. I love ya. is there no hope for us? it's not natural. is it? acting like there's nothing wrong?
Ever since they moved in? and all that racket began. I've been thinking of when that was us.
I can still see ya with one leg up'n the dash and nothing on but the radio.
There was a time. everywhere and anywhere we could, we did. do ya remember? in the woods, up the hills, by the stream. we couldn't wait to see each other. anticipation. passion. ohh darling, in the park. on the beach, at night, during the day, if we thought we could get away with it, sometimes, not caring if we did or not. we were free. I want that back. my heart is not long for this world. I can feel it. is it too late for us to try, to try to…perhaps recapture a little of our youth?
Maybe they're taking a break in there? poor mans gotta be exhausted. didja hear what she was doing to him? what she was yelling. he's lucky to be alive. did ya not hear what I heard? the walls shook. screaming? like they were killing each other.
Darling please. come here, give us a kiss.
Maybe I should just go over there and check on their well being? it's called a well being check. Garda does it all the time. there's no sense in involving the law if we don't need to. but Mrs? I'm worried. we've only met her the one time. I've never seen him. not once. what if there is evil living next door to us? what if after they've had a bit of drink that like us all, the true revealing really begins? what then now? what if they burst in here naked some evening? and we're forced to fight for our lives? would ye fight with me Mrs? WOULD Ye? For God's Sakes Woman! look at me. stop yer laughing this isn't the least bit funny.
Ah here now, I need to feel the warmth of ya. to hold ya, smell ya. let's go to bed. ah darling, yar the only one for me. you have me heart, me spirit. me soul. you have me. I'll be needing them back when your finished with em mind you. but for now? they're yours.
Oona: You troublemaker. I'll bet you say that to all the girls.
Eamon: Just you love, only you.
Oona: I like when you're gentle with me. Gently Sweetie. Gently.
Eamon: Can I carry ya to the bed? cross the thresholds.
Oona: Will you not be listing to the woman shouting through the wall?
Eamon: Do the best I can darling.
Oona: Eamon?
Eamon: Yes Dearie?
Oona: Eaaamon?
Eamon: Jaysus Mary and Joseph. What is it you want me to say?
Oona: May the Cat Eat You and The Devil Eat the Cat!
Eamon:  Are we going to bed then?
Oona: Married to the likes of you am I?
Eamon: I told yas? magic. we were meant to be together.
Oona: Away and pull ur wire.