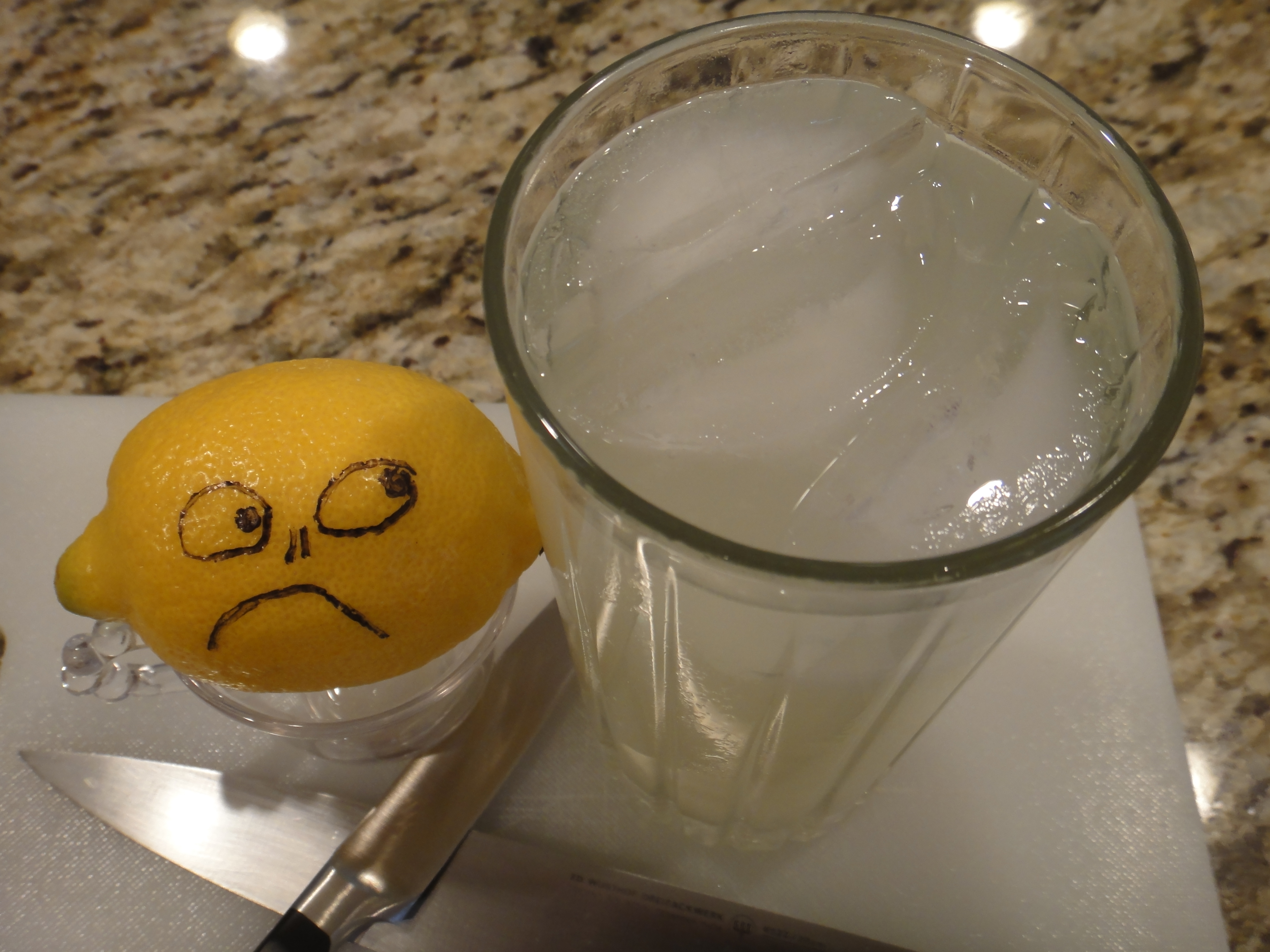 The sign said, Ice Cold Lemonade 75 cents.
Seemed a little high for a lemonade stand. I stopped my car anyway. ordering a glass from a little girl about 6 or 7 years old who appeared to be in charge.
Look? nobody likes to be taken advantage of…especially me. I don't care if it's a Telemarketer, a Car Salesman or a 7 year old kid hustling watered down lemonade at 75 cents a pop. fair is fair. right is right. Unbelievably everything about this kids stand was wrong.
Where do I begin?
It tasted funny, not the least bit sweet or tart. clearly a bad product.  The presentation was all wrong. the table top was a mess. she was holding a dirty rag to wipe it with, but it wasn't in use when I walked up. immediately I was convinced it was overpriced for what she was selling. and even though? I can't prove it. I'll bet she stirred it with her dirty little fingers.
The lemonade was lukewarm, it wasn't ice cold as advertised. there wasn't any ice that I could see anywhere. in the glass or in the pitcher.
I told her it was simple. Either give me a fresh one in a clean glass with some ice or give me back my money. she tried to the give me the bum's rush. it was at this moment her mom came out of the house. she could sense some tension and asked her daughter.
"Is Everything OK Sweetie?"
I interrupted,
"Everything would be fine, as long as I get another one with some ice."
The kid told her mommy that,
"He didn't like the Lemonade."
I said that was correct and explained why.
I felt like I was getting ripped off, that if I wanted another one? I had to give her another 75 cents?
The mom laughed at me like I was nuts. at this point I decided I didn't want another glass. this transaction had gotten way out of hand. I just wanted my money back.
That's when the little girl started to cry.
The mom asked, "Are You Happy Now?" to which I responded, "No I'm not, all I want is my money back."
I let them know, I could call the village and report them? as I do not see a permit? or a license to operate a beverage stand?
That's when the kid really started bawling. and said to me, "You're Mean." to which I replied, "Oh Yeah? Well?…You're a Bad Business…Person and Your Lemonade Stinks! How long have you been doing this?" her mother then scolded me with, "That's Enough!" over her little girls response of "All Summer."
Then?!? she stuck her tongue out at me. while the mom continued with, "What is the matter with you?!?"
I was only trying to help instruct her daughter on how to run a business properly. If you want to do something? Do it right. which unfortunately made the kid cry more. that's when mom informed me that I should open my own stand if I felt that way. I told her, "If I did? My stand would crush theirs and put them out of business."
Silence and Dirty Looks were exchanged.
I decided it was time to leave. refund or not, what's done is done. I just wanted to forget the whole thing. so I left.
A couple of days later there was a knock on our door. I opened it to find the father standing there holding his little girls hand.
He asked me if what he'd heard was true? I said there had clearly been a huge misunderstanding here.
His eyes narrowed.
He wanted me to apologize to his daughter. I tried to explain my position to him, and flatly refused to apologize. I felt I had done nothing wrong? Dad was not happy with me. I could tell by his expression. then he asked me "If I wanted to step outside? Where we could settle this like Men." I told him, "We could settle it…We could settle it in court if he'd like?" and closed the door in their face.
I couldn't prove it of course, but the next morning I found that someone? had yanked out all of our flowers in the front yard by the roots. The kids in the neighborhood have started calling me sourpuss and lemon head. and someone keeps ringing our doorbell and running away. I also have found several lemons left in our mailbox.
Sticks and stones will break my bones, but names will never hurt me.
This incident thankfully never made it to court, I'm happy to report. I'd like to think that cooler heads have prevailed.
In the end, This seemed to be a simple case of bad parenting.
Which is easy for me to say. I don't have any kids of my own. Though, if I did? you can be damn sure that if they did open a business? They would be prepared with the proper knowledge and resources to succeed. it's a tough business world out there.
I believe you should give your kids the tools they need to survive. I don't care how old they are?
I haven't seen her around lately.
My wife has requested that I stay away from her.
If I do see her? I'm suppose to look the other way. turn the other cheek. rise above it. I don't know about all that.
I simply won't stoop to her level.